Meet Fern Reiss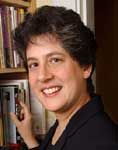 Fern Reiss, CEO of PublishingGame.com and Expertizing.com is an expert in publishing and name-brand positioning. She is the author of ten bestselling books, including The Publishing Game series, and the forthcoming title Expertizing: Position Yourself as a Name Brand. She is an honors graduate of Harvard University, and a board member of the Harvard Alumni Association and Harvard Startups.
Fern speaks internationally to corporate and professional gatherings, and runs all-day workshops on a variety of publishing and positioning topics. She is a syndicated columnist, as well as a prolific freelance writer, who has written for Parade Magazine, the Boston Globe, AARP magazine, Writer's Digest, Sesame Street Magazine, and many other publications.
Fern is a 2005 finalist for Inc. Magazine's Entrepreneur of the Year Award.
Fern has been quoted, and her books and business mentioned, in over 100 publications in the last six months, including New York Times, The Wall Street Journal, The Washington Post, The International Herald Tribune, Associated Press, United Press International, PBS, Voice of America, Glamour Magazine, Family Circle, Health, First for Women, Women's World, Redbook, Self, Newsday, Newsweek, and even the National Enquirer.
She and her family live in Boston.