The Publishing Game Workshops
The Publishing Game Workshops are for anyone who has ever wanted to publish a book. Do you need a literary agent? Are you thinking about self-publishing? Do you want your book to have a shelf-life longer than cottage cheese? If so, this intensive all-day workshop is for you. Learn how to:
Find the right literary agent for your book
Create a knock 'em dead proposal to hook an agent
Find the best (and surprising!) places to meet an agent in person
Propel your book from idea to finished manuscript
Craft the perfect book package—title, cover, printing, the works
Print books for $2-$3—and sell them for $25
Decide on traditional self-publishing versus print-on-demand
Set up your own publishing house
Sell your book in bookstores, libraries, and beyond
Be featured in national magazines
Sell your books to corporations, book clubs, and catalogs
Create a surefire print and broadcast publicity campaign
Organize a profitable speaking tour
And much, much more!
Don't miss the chance to get exclusive information not found elsewhere:
The best places to meet a literary agent in person

How to get Library of Congress CIP cataloging—even though they don't like to give it to self-publishers

One quick phonecall you can make to find out how competing books are selling

No-miss ways to spot an agent who's a scam artist

When you might want to consider Print-On-Demand—and why you absolutely shouldn't consider it for all other projects
You'll also learn:
A simple way to get $10,000 worth of publicity—for less than $500

Wonderful free resources where you can discover which agents have sold books to which publishing houses—and for what prices

What to do about distribution to bookstores and libraries—and what not to do

The best way to get the media to call you for quotes
By the end of the day, you'll know how to hook an agent, set up your own publishing house, and publicize your book to bestsellerdom!
Upcoming workshops include:
City

Date

Comments

We're sorry, but all scheduled workshops are currently closed. Please e-mail us at

Workshops@PublishingGame.com

to find out about upcoming workshops. If you have a group interested in a workshop we can arrange a custom workshop for you.
Directions, ideas on what to bring, and other details will be mailed to participants. Workshop price is $195. Includes an information-packed binder and light refreshments.
Additional workshops being scheduled for cities across the U.S.A. Check here soon for more information.
Can't wait for a scheduled workshop? Get together 20 friends and we'll bring a Publishing Game Workshop to you. Contact Alyza Harris at Alyza@PublishingGame.com for details.
Before you spend $3,000 to self-publish books that will just stay in your garage—or months hunting for that elusive literary agent—why not try The Publishing Game?

"As a newcomer to the profession of authoring, you made my first learning experience exceptional. As you shared your expertise, new marketing ideas and solutions kept popping into my head. In fact, I was still taking notes from the workshop during the bus ride home to NJ. You created an environment that was non-threatening and supportive, which I appreciated immensely. No question was secondary or silly. In additon to a tremendous amount of knowledge, one of the most important things I gained from your workshop was more confidence in myself and my project and for that I thank you."

— Loren Ackerman, author of
Talkin' About Poker: Simply Put
New York City, June 2005 Publishing Game alumna
"Fern Reiss' one-day workshop is a must for any new-comer to publishing. The author seeking direction with his or her first book should check in with her before they do anything. She lifts the curtain of haze surrounding the publishing industry and provides an acute clarity of vision. Never have I received such a wealth of information for such a small investment."

— Don Bracken, author, Times of the Civil War
NYC, September 2005 Publishing Game alum
The Publishing Game Workshop
Audio Edition
Can't get away to attend a workshop? The Publishing Game Audio Edition is the next best thing to being there. The unique info-packed workshop described above has been recorded live, ready for listening at your convenience—at home, in the car, on the go.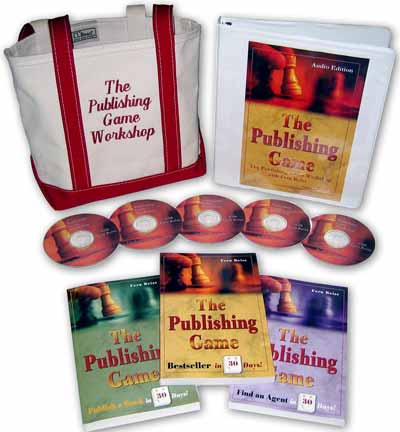 (Shown: Professional Audio Edition)
Standard Audio Edition
The Standard Audio Edition of this workshop-in-a-box includes a workshop binder with 5 audio CDs containing the complete Publishing Game Workshop recorded live:
Volume 1: Introduction - Traditional vs. Self-Publishing
Volume 2: Market Research
Volume 3: Agents and Traditional Publishing
Volume 4: Self-Publishing
Volume 5: Book Promotion
In addition to the CDs, the workshop binder also contains The Publishing Game Planner, a set of worksheets that will help you plan all aspects of getting your book published, whether you choose to find an agent and traditional publisher, or self-publish. The Standard Audio Edition costs $195—the same price as the live workshop.
Professional Audio Edition
The Professional Audio Edition includes everything in the standard edition above, plus:
The Professional Audio Edition contains all of the information a serious author or publisher needs to take a book from idea to bookstore. The Professional Audio Edition costs $244, the same as the cost of the Standard Audio Edition plus the discounted cost of the three-book Publishing Game package—which means you're getting the tote bag for free.

"I attended the last workshop in NYC. Fern Reiss knows the publishing industry first hand and gives a realistic account of how to be successful as a self-publisher. Her workshop is small enough that she can tailor it to the individual needs of the workshop participants, who were themselves a very interesting group. I recommend it highly."

— Susan Lerner, Sands Point Press
New York City, March 2003 Publishing Game alumna
"Thanks so much for your creative, practical advice in your books and workshop. I'll continue to recommend them and you to all my writer and publisher friends."

— Dr. Pamela Adams, www.painlessguides.com, author of
Dr. Adams Painless Guide to Computing
San Francisco, May 2003 Publishing Game alumna
"You offered so much information in such a brief time. The pace was right and the information was fantastic! Thank you!"

— Mollie Bryan, author of Mrs. Rowe: A Life in Food
Washington DC, January 2003 Publishing Game alumna
"Fern, the workshop was great! Thanks for an informative session."

— Ramona Clay, author of
Living with Joy: How to dance with life when the music stops
Philadelphia, January 2003 Publishing Game alumna
"While other workshops on publishing give you a supermarket full of knowledge, the Publishing Game workshop provides a recipe you can actually use to propel your book idea to reality. Fern is an energetic and inspiring presenter whose workshop did what I thought was impossible: Made me even more excited and determined to publish my book!"

— Baratunde Thurston, NewsPhlash™
Boston, November 2002 Publishing Game alum
"The Publishing Game workshop was great—particularly your personality and presentation! Many thanks for the lead and your hook—I love it. I am telling everyone who will listen about you and your workshops."

— Ruth Sidd
Boston, November 2002 Publishing Game alumna
"Dream no more about publishing your book, after Fern Reiss's Publishing Game workshop you will definitely have your hook!"

— Robyn Rogers
Boston, November 2002 Publishing Game alumna
"Fabulous workshop. Unbelievable."

— Susan Makin
Boston, November 2002 Publishing Game alumna
"Are you frustrated with the publishing game? I was too—until I took Fern Reiss's class and learned the rules. Wow!"

— Ben Lappen, author of From the House of Radius
Boston, November 2002 Publishing Game alum
Whether you choose to attend a live Publishing Game workshop, or listen to the The Publishing Game Workshop on CDs, you'll find exclusive information you won't find elsewhere, and you're sure to learn something that will save you much more than the cost of the workshop. Before you spend $3,000 to self-publish books that will just stay in your garage—or months hunting for that elusive literary agent—why not try The Publishing Game?
If you still have questions about The Publishing Game workshop, please email Workshops@PublishingGame.com and we'll get in touch with you.
Fern Reiss also offers Expertizing Workshops on becoming known as the expert in your field and being quoted by the national media on a daily basis.
Think you need more personal attention than a workshop can offer? Check out Fern's consulting.